Sue's very first landscape quilt, "Winter Garden" (1997), garnered a viewer's choice award at the Prairie Heritage Quilt Show in Sun Prairie, WI. Since then her quilts have appeared in many regional, national, and international shows and exhibitions, winning dozens of awards and prizes.
She was recently honored with a commission to prepare two quilts on American themes for the US Embassy in Moscow, Russia. These two quilts will soon be exhibited there:
At the left is
"NEW ENGLAND COVERED BRIDGE:
West Arlington Bridge at
Bennington, Vermont"
(48x 60) (2003)

At the right is
"NATIONAL ARBORETUM:
Asian Collection"
(48x 60) (2003)

(Click the images for details.)
Indicative of the high quality of her quilts, Sue has won top prizes several times at the American Quilter's Society International Show in Paducah, KY. Click the images below to see these AQS Show winners.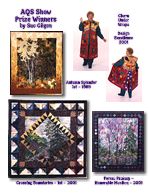 The quilt at the left is
last year's winner (2002)
in the Pictorial Wall Quilt category.
The quilts and the garment
at the right are
previous winners.
(Click the images for a larger view.)
You can also view a complete list of awards and prizes.