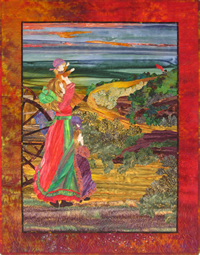 Sue's "The Red Shawl: A Tender Mercy" has been selected from among 1156 entries as part of the Ninth International Art Competition of the Church History Museum (The Church of Jesus Christ of Latter-day Saints). The theme for the competition was "Make Known His Wonderful Works" based on the scripture "Pray unto the Lord, call upon his holy name, make known his wonderful works among the people." (Doctrine and Covenants 65:4)
The venue for the Ninth International Art Competition will be in the LDS Conference Center in Salt Lake City, UT. The exhibit officially opens the evening of March 16, 2012 and runs through October 14, 2012. The complete gallery of juried entries will be on the Church History Museum website beginning March 21, 2009.
The story behind the quilt:
While journeying by handcart company to Utah, six year old Arthur Parker went missing. The handcart company stopped and helped search for two days, but then had to move on. Ann Parker's distress prompted her husband Robert to turn back along the trail to continue the search. As he left, she pinned a bright red shawl on his shoulder with the instructions: "If you find him dead, wrap him in the shawl to bury him. If you find him alive, use this as a flag to signal us."

Three days later just as the last rays of the sun were streaking across the sky, she saw the glimmer of the bright red shawl in the distance. In the depth of their tribulation, a tender mercy had been extended by a loving Heavenly Father.

Inspired by the story "The Lost Boy" related by Boyd K. Packer from pioneer journals.
An Original Quilted Fiber Art Landscape created in appliqué technique with hand dyed, over- dyed and batik fabrics.