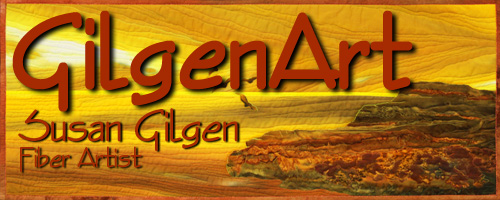 Sue has returned from Spain and has picked up where she left off, creating new and inspirational fabric art. Currently, a new piece entitled "Aspen Red" is appearing in the Utah Quilt Guild's Ruby Jubilee Quilt Fest, in Layton, UT. Her depiction of Woton's Throne in the Grand Canyon recently won Judge's Choice in the Springville Art Museum. Her The Red Shawl was on display at the Southern Utah Museum of Art, and African Acacia was exhibited in the St George Art Musuem. Her recently completed Aspen Red just took top honors at the Utah Quilt Guild's Quilt Fest.

Fiber Art Quilts and Art Note Cards are now available
for purchase online at The Gilgenart Marketplace.

Contact Sue by email for information on fulfilling online purchases.
[Note: We plan to revamp this website soon to make it easier to find her recent work
and to update her accomplishments . In the meantime, please contact Sue if you have any questions.]
Landscape Quilts and Fiber Arts by Susan McBride Gilgen

All text and photographs on this website are ©2017 by Sue Gilgen

Telephone: 435-313-4237