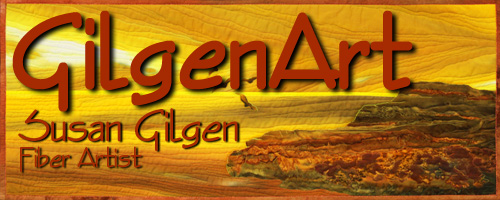 Sue has been busy this past year creating new and inspirational fabric art. Currently, a new piece entitled "Remembering Old Nauvoo" (a collaborative creation with Cheryl Styler) won a Merit Award at the International Art Competition of the Church of Jesus Christ of Latter-day Saints and is on display at the Church Art & History Museum in Salt Lake City from March to October 9, 2019. She just completed a quilt for her daughter, "Perspective: The Cliffs of Moher," which took Best of Show at the Dixie Quilt Guild show in St George, UT.

Fiber Art Quilts and Art Note Cards are now available
for purchase online at The Gilgenart Marketplace.

Contact Sue by email for information on fulfilling online purchases.
[Note: We plan to revamp this website soon to make it easier to find her recent work
and to update her accomplishments . In the meantime, please contact Sue if you have any questions.]
Landscape Quilts and Fiber Arts by Susan McBride Gilgen

All text and photographs on this website are ©2017 by Sue Gilgen

Telephone: 435-313-4237